What makes Bali Silver special? Bali silver is sterling silver made on the island of Bali, in Indonesia in the Indian Ocean. The Balinese are highly skilled silversmiths, known for their granulation and wirework decoration.
Genuine Bali Silver is made entirely by hand, starting with the weighing, melting and mixing of the 92.5% silver and 7.5% copper to form sterling silver. Experienced silversmiths can closely estimate the amount they need for the project they're designing/creating. The silver, in form of small beads, and bits of copper are heated with a simple torch, attached to a bottle of gasoline with rubber tubing. A foot-pumped bellows adds the needed air. Molten silver is poured into small wooden molds. Once cool, the silver is put through a rolling mill, cranked by hand, like an old ringer washer or a pasta maker. The worker tightens down the rollers after each pass to make the silver thinner and thinner until the desired thickness is reached.
Beads, as well as bezels and other similar findings, are made from the sheets of silver. The silver sheeting is cut to size for making a bead of a particular size, then hammered into semi-circular indentations in a brass block. Excess silver is sanded away and two halves the bead are soldered with silver solder. Other designs, such as bezels are cut and then formed into the desired shaped for the piece.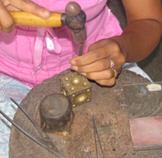 Wire is made by pulling the silver through smaller and smaller holes in a tungsten carbine template until the wire is the desired size. The tiny dots of granulation are formed by snipping pieces from wire. When heated these little pieces of silver form into a ball.
The wire and/or granulation are applied to the bead with a natural glue and then a solution of silver, copper and water is brushed over the bead. The entirely bead is carefully heated with the torch to complete the process. The silver is then cleaned with a fruit substance and dipped into an oxiding solution. When polished the raised areas with become bright on a dark background, highlighting the design. Unoxidized silver is also available.
Each bead, earwire, clasp, headpin or bead cap is made one by one with patience and skill. One slip, or a little overheating can ruin hours of work. A child growing up in a silversmith family can learn to make the first simple designs in about 2 months. Someone else will need two years of training and experience.
A limited amount of silver in Bali is made by casting. Certain designs simply don't lend themselves to the handmade method. The cast beads are still sterling silver.
One will often see beads called Bali Style Silver. These are made elsewhere - India, Turkey or Israel, for example. Sometimes they are handcrafted but often they are cast, even those that have the granulation and wirework. There is nothing inherently wrong with Bali Style Silver - just understand how it is different. If you aren't sure, compare two beads. If they are too perfect, they are probably cast, although it is amazing how uniformly made the genuine Bali beads are. Price is also an indicator. Genuine handmade Bali Silver is going to be more expensive.
Thai Hill Tribe Silver is an entirely different style and method. It is a higher percentage of silver - 95-99%. It is formed and the designs in the silver made by hammering so requires the softer, purer silver. Like Bali silver, Thai Hill Tribe Silver can be recognized by destinctive patterns.
perak, perak bali, perak 925, perak asli, perak adalah, perak batangan ,perak celuk , perak dan titanium , perak dan emas putih , perak emas,
perak grosir , perak lapis emas , perak kodian , perak lapis emas , utih , perak murah , perak online , perak perhiasan , perak silver , perak ukir bali , perak untuk batu akik